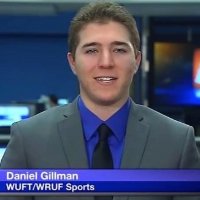 Daniel Gillman is a play-by-play sports broadcaster, the voice of Purdue University volleyball and a graduate from the University of Florida. Born and raised in Weston, FL, he worked for two years as a play-by-play broadcaster for the Gators IMG Sports Network in Gainesville, Florida.
Along with Purdue volleyball, Daniel is the producer for a sports talk show on the local ESPN affiliate '101.7 The Hammer'. He broadcasted Florida Gators lacrosse, volleyball, soccer and softball. For The Prep Zone, he was the lead play-by-play broadcaster for high school football, basketball, volleyball and baseball all over north Florida. He has broadcasted the NCAA Tournament for volleyball, soccer, lacrosse, and the Women's College World Series for softball, including the longest game in WCWS history. Around the NAIA, Daniel has broadcasted the national championship for men's soccer, and the Opening Round of the NAIA Softball Tournament.
In high school, he interned for 560 WQAM, a sports radio station in Miami, FL and covered the Miami Hurricanes basketball team throughout their ACC Championship run in Greensboro, NC and their NCAA Tournament run in Washington D.C.
Sports has been a passion of his since childhood and has now become his profession. Over the last couple summers before he graduated, Daniel interned with Fox Sports Florida, FOX-WSVN 7 Sports in Miami, and was the play by play voice for the South Florida Collegiate Baseball League in Boca Raton, FL.
Here is his resume.